Pro Flight X-56 Rhino H.O.T.A.S. System for PC
---
Military-grade Space Sim Precision
Evolving the H.O.T.A.S.
Designed to meet the needs of the re-emerging space simulation genre, Saitek introduces the new X-56 Rhino H.O.T.A.S. System. Built to the same exacting standards of Saitek's award-winning Pro Flight accessories range, the X-56 Rhino delivers a multitude of customizable options.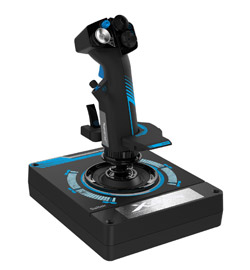 6 Degrees of Freedom (6DoF)
New Mini Analog Stick Control Surfaces
In modern space sims control is becoming more complex than in traditional atmosphere-based flight simulations, with many more inputs required to achieve true control of the space craft. Pitch, roll, yaw, backwards, forwards, up, down, left and right (the titular 6DoF) all need to be accounted for.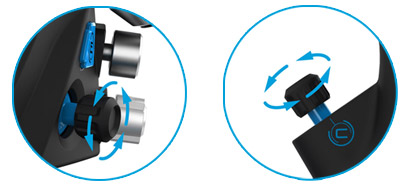 This is why the new mini analog sticks are required; providing four more axes of control. Assignable to any in-game axis function, or programmable using the included software, running out of control options is no longer an issue.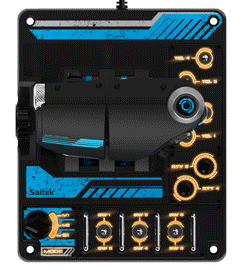 RGB Backlighting
Customise lighting to suit your setup
Many PC peripherals now feature RGB backlighting and now the X-56 is no exception. Use the software to set the colour of the lighting to match the rest of your gaming rig.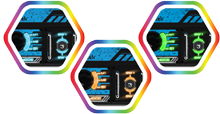 VR Controller
Ideal for use whilst wearing a HMD
Piloting whilst using VR is a great experience but can prove difficult because you can't see your own hands, which can make finding the controls you need problematic. The X-56 places controls perfectly under your fingers where subtle distinctions in button feel and shape help you navigate the control set with ease. Even the switches on the base of the throttle are staggered or separated so telling them apart from feel alone is possible, leaving you free to concentrate on the immersive VR experience.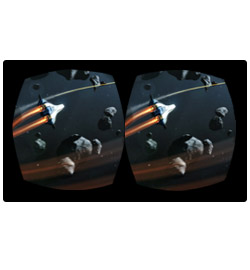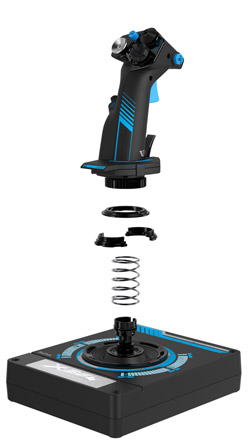 Contact-free Hall Effect sensors
Enhanced Stick Accuracy
The X-56 Rhino's control surfaces are incredibly accurate, courtesy of a 16-bit aileron and elevator axis, each employing hall-effect sensors. Developed from the ground up, Saitek's 16-bit axis solution enables extremely precise flight.
Adjustable Stick Spring Force
via Advanced 4-Spring F.E.E.L. System
A ground-breaking, adjustable stick spring system allows pilots to alter the force required to move the stick. Four springs of varying resistance are included to provide a total of five different options. Choose the spring – or no spring at all – which best accommodates your style of flying.
Twin Throttle
With Friction Adjuster and Throttle Lock
The X-56 Rhino boasts twin throttles – ideal for situations in which your primary engine is disabled and you're down to one – and also provides the option to adjust the friction required to move them. And if your aircraft of choice is single-engine, a handy throttle lock effectively converts the twin throttles into a single unit.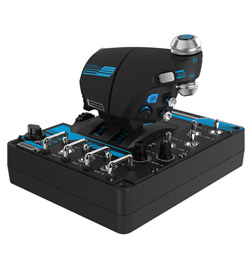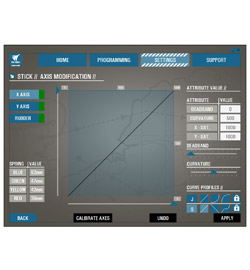 H.O.T.A.S. Configuration Software Enables Programmable Controls
At least 231 Programmable Controls
Saitek's software provides the ability to completely customize all of the X-56 Rhino's axes and buttons. You can adjust deadbands and response curves to fine-tune axes to respond as you wish; all buttons can assign any number of in-sim commands, such as afterburner, Frame Shift Drive, target lock and weapon group firing. The software also allows programmability for an array of mouse and keyboard commands – from basic single-key inputs to very advanced, timed, and macro commands.
Product Includes:
X-56 Rhino Stick Unit with USB Connector Cable
X-56 Rhino Throttle Unit with USB Connector Cable and Green Backlighting
Spring System with 4 Springs of Varied Resistance
Flight Simulation Software Compatibility:
FSX - Flight Simulator X (PC only)
X-Plane 10(PC and Mac)
Prepar3D® 2.2(PC only)
Most Other Flight Simulation Software
Minimum System Requirements:
Windows®: 7, 8.1, 10
2x USB 2.0 Ports
Compatible with Most Flight Simulation, Combat Simulation, and Space Simulation Software including:
Elite: Dangerous
Star Citizen
Flight Simulator X
Flight Simulator 2004
X-Plane 10
X-Plane 9
DCS World
DCS: A-10C Warthog
DCS: Black Shark 2
DCS: UH-1H Huey
Lock On: Modern Air Combat (LOMAC)
Lock On: Flaming Cliffs 3
Lock On: Flaming Cliffs 2
Lock On: Flaming Cliffs
aerofly FS
Take On Helicopters (TKOH)
Rise of Flight
Arma 3
Falcon 4.0: Allied Force
Falcon BMS 4.32
World of Warplanes
War Thunder