Pro Flight X52 Pro Flight System for PC
---
Precise Combat Flight Sim Action
Saitek's X52 Pro Flight H.O.T.A.S. System is a fully integrated hands on stick and throttle flight controller that meets or exceeds the demands of the best flight simulator pilots. Featuring an upgraded multifunction LCD which shows in-game data in real time, a progressive throttle with tension adjustment, plus an adjustable joystick with a self-centering mechanism. The X52 Pro takes all the standout features from the original X52 and elevates them to a higher altitude.
Dual-Spring Centering Mechanism
A highly accurate centering mechanism ensures the joystick will easily return to the neutral position after you let go. Non-contact technology on the X and Y axes enhance control while increasing durability. And, the stick becomes more resistant as it moves farther away from the center position.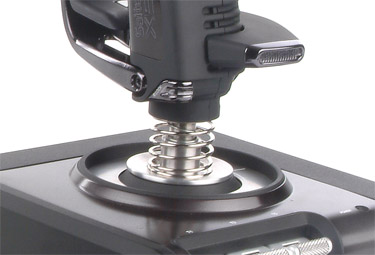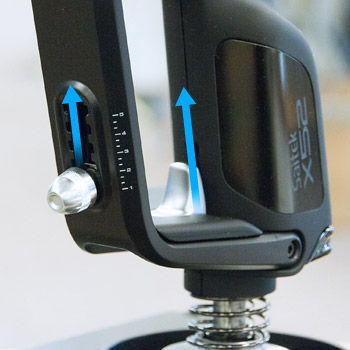 Advanced Grip Adjustment System
A five-position handle adjustment system conforms to your grip style and hand size. And to promote maximum comfort during long flights, the joystick's handle also features contours which harmonize with your digits.
3D Twist with Rudder Lock
The joystick's twist rudder controls add another dimension of command to simulated flight. If you prefer more traditional control, a rudder lock switch disables the twist capabilities and confines input to the X and Y axes – ideal for use with Saitek Pro Flight Rudder Pedals (sold separately).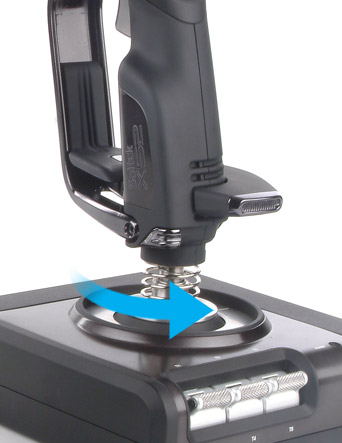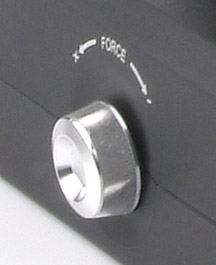 Progressive Throttle with Resistance Adjustment
The throttle unit's progressive functionality improves aircraft response. Detents – physical markings indicating where a certain action takes places – simplify control of your plane's idle and reverse thrusters. Yet another customizable feature found on the X52 Pro, a tension adjustment dial lets you change the throttle's resistance to suit the way you fly.
Multifunction LCD Display
The X-52 Pro's LCD screen – with adjustable backlighting – enables you to view information about your button configurations with only a quick glance. Even more beneficial is the ability to directly manipulate radio stack information in FSX, X-Plane, Prepar3D, and most flight simulation software. You can then use the buttons residing below the Multifunction Display (MFD) to cycle through essential radio stack functions. A downloadable Software Development Kit allows you to create your own MFD interactions.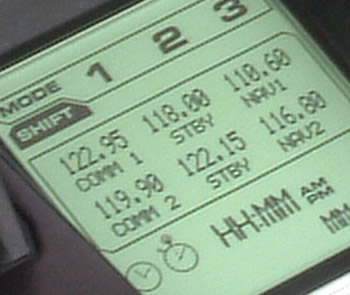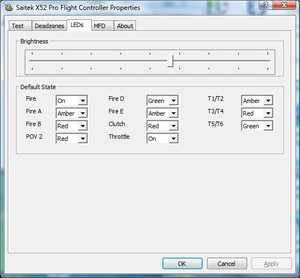 Powerful Programming Software (PC Only)
After installing downloadable software, you are then free to create custom profiles for different flight sims. Three mode settings and a pinkie switch provide enhanced programming options for even more control in your favorite sim. And, all button programming is color coded. Assign a color to each button's tri-state LED, and then make adjustments via controller settings within joy.cpl (Game Controllers).
Product Includes:
X52 Pro Stick Unit with USB Connector Cable
X52 Pro Throttle Unit with USB Connector Cable
Flight Simulation Software Compatibility:
FSX - Flight Simulator X (PC only)
X-Plane 10(PC and Mac)
Prepar3D® 2.2(PC only)
Most Other Flight Simulation Software
Minimum System Requirements:
Windows®: 7, 8.1, 10
1x USB 2.0 Port
Combatible with Most Flight Simulation, Combat Simulation, and Space Simulation Software including:
Flight Simulator X
Flight Simulator 2004
X-Plane 10
X-Plane 9
Star Citizen
Elite Dangerous
DCS World
DCS: A-10C Warthog
DCS: Black Shark 2
DCS: UH-1H Huey
Lock On: Modern Air Combat (LOMAC)
Lock On: Flaming Cliffs 3
Lock On: Flaming Cliffs 2
Lock On: Flaming Cliffs
aerofly FS
Take On Helicopters (TKOH)
Rise of Flight
Arma 3
Falcon 4.0: Allied Force
Falcon BMS 4.32
World of Warplanes
War Thunder