Pro Flight™ Rudder Pedals for PC
---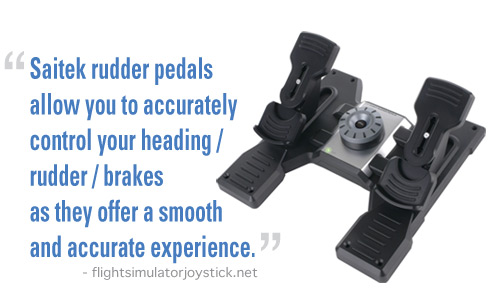 Smooth and Accurate Flight Sim Action
Saitek's Pro Flight Rudder Pedals add another layer of realistic control to your flight simulation setup. Control the rudder and toe brakes of your aircraft with your feet – just like actual pilots. These self-centering pedals with adjustable damping are a perfect complement to the Saitek Pro Flight Yoke. Elevate your level of in-sim airplane precision with the Saitek Pro Flight Rudder Pedals.
Precise Rudder and Braking Control
The Rudder Pedals' fluid motion enables accurate command over your aircraft, while differential braking provides independent control of the left and right toe brakes. The foot rests adjust to accommodate a wide range of sizes and include non-slip materials to help keep the pedals on the floor during virtual flight.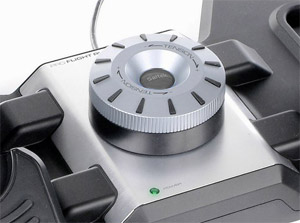 Adjustable Tension Dial
Select your own resistance to suit the way you fly. Apply just a little pressure to make the Rudder Pedals respond, or choose to exert more force. A simple twist is all it takes to get you dialed in.
Fully Customizable To Meet Your Needs
Modular and interchangeable, Saitek's range of Instrument Panels can be situated one on top of another or side-by-side. Want the Multi Panel above the Radio Panel? Done. Want your Switch Panel to the left of your Yoke? Go for it. Easy-to-use mounting brackets provide the means to arrange your flight simulation setup in a configuration only limited by your imagination.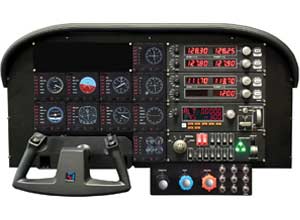 Product Includes:
Flight Simulation Software Compatibility:
FSX - Flight Simulator X (PC only)
X-Plane 10(PC and Mac)
Prepar3D® 2.2(PC only)
Most Other Flight Simulation Software
Minimum System Requirements:
Windows®: 7, 8.1, 10
1x USB 2.0 Port
Compatible with ALL Major Flying Games, Including:
Flight Simulator X
Flight Simulator 2004
X-Plane 10
X-Plane 9
DCS World
DCS: A-10C Warthog
DCS: Black Shark 2
DCS: UH-1H Huey
Lock On: Modern Air Combat (LOMAC)
Lock On: Flaming Cliffs 3
Lock On: Flaming Cliffs 2
Lock On: Flaming Cliffs
aerofly FS
Take On Helicopters (TKOH)
Rise of Flight
Arma 3
Falcon 4.0: Allied Force
Falcon BMS 4.32
World of Warplanes
War Thunder